Steam irons are quite different from using the traditional technology of an iron. A steam iron uses super heated water for the purpose of eliminating the clothes and the fabric's wrinkles which is not suitable in traditional ironing.
The hot mist, which comes out form the few holes within the soleplate of the iron, is responsible for steaming the clothes. As the steam comes out from the holes and has been absorbed by the dress, the steam iron when pressed leaves a wrinkle- less appearance to the dress.
There are many steam irons being offered in the market and in online as well. Despite their quite a large number of brands being sold, only few of them came out to be the best and here are some of the following:
Steam Iron – What is it?
Perhaps you're wondering what a steam generator iron is and how it's different from a regular iron?
A steam generator iron consists of 2 parts:
The first part is the handheld iron unit which looks like a regular iron, without the water tank.
The second part is the base unit, which is separate and contains the boiler, as well as the water tank.
They are different to regular irons because they don't contain the water in the iron itself. Instead, the water is stored in the base unit. The boiler, which is also located in the base unit, heats the water and it's then delivered as a high steam output, through the hose which connects the iron to the base unit.
Is a steam generator iron better than a traditional steam iron?
Many people prefer steam generating systems, because they can achieve high quality, professional results in less time than it would normally take.
There are many benefits of these ironing systems over regular steam irons, including:
The handheld iron of a steam generated iron is lightweight compared to a regular iron, because the water is stored separately.
Ironing time can be reduced by up to 50% and requires less effort
The steam output is much higher and much more powerful.
Professional looking results are easy to achieve
They have extra features which will make ironing even
There are extra safety features, including automatic switch-off, which will be activated automatically if the iron is left unattended for a set period of time.
Types of Steam Iron
Today the best steam irons make ironing a breeze. No more heating up a piece of steel and placing it on your garments. Modern technology has made removing wrinkles from your clothes a fairly easy task. However, because there are so many make, model and brands it can be a challenge to pick out the best steam irons. Let's look at some of the types of steam irons.
Travel Steam Iron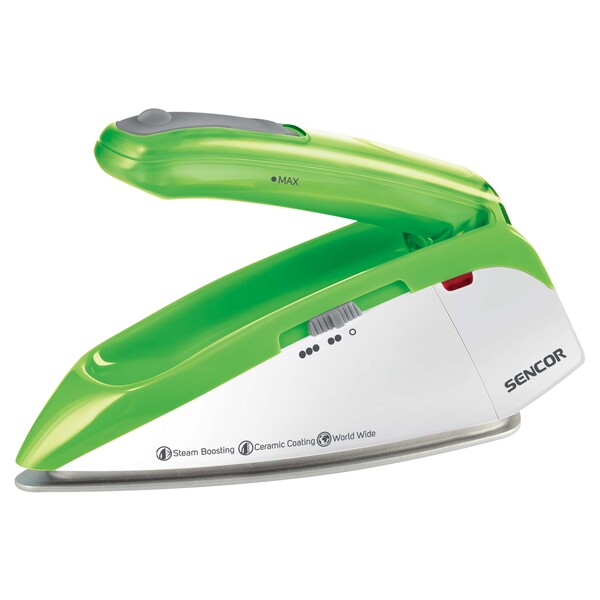 Most clothes are wrinkled once they are packed in a suitcase, so a travel steam iron is a necessity for the frequent traveler. This type of iron is light weight and compact so that will fit in your luggage. They come in a variety of colors and can range from the simple steam to more complex features such as having dual voltage. Some of them can be used while your clothes are on the hanger.
Cordless Steam Irons
A cordless steam iron is (yes, you guessed it) a steam iron without a cord. The benefit of this type of iron is that you don't have to spend time readjusting your clothed and no matter how your item is positioned it will not get tangled in the cord.
You would think that this would make ironing go faster, but most consumers have found that the ironing time remains the same. One of the drawbacks of a cordless iron is that it doesn't stay hot during the entire ironing session and need to be put back on the base for reheating.
Steam Press Iron
A professional s team iron also called a steam press iron eliminates he need for a handheld iron and ironing board. It allows you to press a large volume of clothes very quickly. As the name implies this type of iron is usually found in a cleaners or other commercial site. However, there are some small electric models that consumers are starting to purchase for their homes.
How To Buy The Best Steam Iron Brands
There are many features and benefits listed, when it comes to steam generating ironing systems, but how do you know what to look for? How can you choose the right features that you need the most and not focus on the ones you won't really need, if you're not sure how each of them will affect you?
Like any other product, you should have some key features that you look for in a steam iron. Of course, the basic functionality is going to be to remove wrinkles, but there are options and features on some steam irons that make this job a lot easier to do.
We have put together an in-depth list, explaining the technical jargon you're likely to come across when you're looking for a new steam generator iron
1.Budget
First off the best steam iron isn't the most expensive one but rather the most reliable one. You can buy a nice high end model with a lot of extra features but it could be extremely flimsy. This applies to everything that a consumer might buy from electronics to cars but it is nonetheless important to remember. When starting your quest you should set a budget for yourself and not go over your assigned limit.
2.Brands
When this is done you need to narrow you search down to the models you like from certain brands. There are various brands out there to choose from and picking four specific product brands can reduce the amount of time you spend researching. For example if you choose Rowenta, Shark, Black and Decker, and T-fal you will only have to compare models between these four brands.
3.User Reviews
When doing your research into the best steam iron you should first read user reviews on the durability and functionality of each model. There are always those that complain but there are also those that give honest reviews of products. You'll be able to pick these out and you're looking for the model that has the greatest number of these. Next you'll have to examine the price performance ratio in order to fine tune your selection.
4.Price Comparison
When examining performance it's generally a good idea to find a model that you like and then see if there's another comparable model that's cheaper. After all why pay a lot for the best steam iron with one brand if you can find it a few dollars cheaper with another? Aside from researching reviews, opinions, and price comparisons the only thing you have left to do is inspect the unit itself.
5.Quality
If you're shopping online and aren't really pressed about quality then you won't need to examine it. If however you're looking for an iron in an actual store you have several floor models to examine. This allows you the opportunity to check the actual durability of the unit in person.
6.Weight
While a light weight iron is a good thing you want to make sure it's sturdy enough to handle the occasional drop or accident. Accidents happen in a home and the last thing you want to do is stop what you're doing and buy a new iron. It's not only disruptive to your workflow but it's also inconvenient.
7.Quick Heating & High Temperature.
Ironing is all about generating enough heat and steam to get wrinkles out of different types of materials. We are busier today than ever before, so make sure you find an iron that heats up quickly. If you only have a limited amount of time to spend ironing, you don't want to wait forever for it to warm up.
Also, using an iron that's not hot enough to start with can damage your clothes and add more time to your ironing chores. Look for quick heating steam irons with variable temperature settings to maximize your ironing time.
8.Quality of Steam Production.
Steam is the key to eliminating wrinkles and making clothes look great. Be sure to get an iron that produces plenty of steam evenly. Look at the holes on the bottom of the iron and make sure that they are placed evenly, so that steam hits the entire garment while you are ironing it.
Some types of clothing will require more steam than others, so make sure that the iron you choose has steam options for different types of garments. The same steam you use for denim is not going to be effective for more delicate items, so take your time while checking out the steam settings on the steam irons you plan to purchase.
9.Safety Features.
Irons get very hot and they can be dangerous. Common safety hazards include hot irons being pulled down on children, and house fires because of irons left on unattended. Look for an iron with plenty of cord length or even a cordless model to eliminate the danger of children tugging on the cord.
You should also get an iron that has automated shut off features so that the iron will shut itself off after a certain amount of inactivity. No convenience is worth the well being of your family or your home, so make sure that you buy an iron that is equipped with robust safety features.
Keep these key points in mind as you search for the perfect steam iron. There are plenty of extra features and bells and whistles on today's irons, but make sure that these features are there before you venture off to check out the additional features. Nothing beats the appearance and feel of freshly ironed clothes, and a great steam iron will help you have the look and feel you want any time you want them.
After all your research, price searching, and personal inspection you should be able to pick out the best steam iron for your home. If you've chosen the right model it will last you for many years and in some cases a few decades. An iron is an extremely important appliance for your home and can directly impact how you take care of your laundry. Both men and women alike should learn how to use one properly to ensure that their clothing always looks its best.
Steam Iron – How does It work?
If you've never used a steam generator iron before, you're probably wondering how they work and whether they really are as good as people say. Usually, as soon as someone uses a one, they realize just what a difference they can make to ironing.
So how does a steam generator iron work?
A steam generator iron is extremely effective at rapidly removing wrinkles and creases from your garments, with minimal effort, even on difficult to iron fabrics.
This is because a steam generator iron is capable of producing much more steam than a regular steam iron. They have a separate base unit, which stores the water instead of it being stored in the iron itself. The base unit also contains the boiler, which heats the water. Once heated, the steam is delivered to the handheld iron through a hose which connects the base unit to the iron itself.
How does a steam generator iron reduce the time and effort it takes to get the ironing done?
The easiest way to explain the difference between using a regular iron and steam generator irons, is to imagine cleaning a vehicle with a pressure washer, compared to a regular hose.
As you know, a pressure washer is much more powerful than a hose and the power of the jet washer – You will have your vehicle cleaned much quicker and with minimal effort, compared to the slow flow of water from a regular hose.
Similarly, these irons can drastically reduce the time it takes to get your ironing done, because they produce large quantities of powerful steam. Also, like pressure washers, steam generator irons will help you get the job done with a lot less effort.
In short, using a steam generator iron will allow you to save time whilst ironing and, at the same time, you will be able to achieve professional results and ensure your clothing is crisp, fresh and wrinkle free.
Steam Generator Irons Features and Benefits
When you start looking for steam generator irons, you're likely to come across lots of different features and technical terms. It can be daunting, if you don't know what the different terms mean.
In order to choose the right model to suit your needs, it's important to understand what the different features are, as well as how they affect the iron's performance.
Let's take a look at some of the technical jargon you're likely to come across, what it means and the effect these things will have on the iron's performance.
Steam generator irons: Features explained
1.Adjustable temperature control
This means you can adjust the heat setting to suit different fabrics. Just as you can adjust the temperature on a regular steam iron, some steam generator irons have adjustable temperature controls. These are a good idea if you iron a variety of different fabrics.
2.Anti-scale/anti-calcium features
Many water supplies will eventually lead to a build-up of scale and lime deposits in kitchen appliances, such as kettles and irons. Although this is perfectly normal, these deposits then have to be removed by de-scaling to prevent long-term damage to your appliance.
Steam generator irons can also be affected by lime and scale. When it comes to cleaning and de-scaling your iron, the level of maintenance required can vary. Some models are self-cleaning and some
come with anti-calcium cartridges, which need to be changed, in line with the manufacturer's guidelines. Other models have more complex cleaning and maintenance requirements.
Furthermore, although some irons can be filled with tap water, other manufacturers recommend using distilled water. It's important to check instructions before use to preserve the life of your iron and keep it in tip-top condition.
3.Anti-Drip 
Water damage often occurs on fabric from the water dripping onto eh fabric without users noticing. Steam irons with an anti-drip feature prevent this. How the anti-drip feature works is a seal is in place to prevent water from dripping when the iron starts to cool down. Steam won't emit until he iron has heated back up to the correct temperature.
4.Boiler pressure
This is the measurement of force used to push the steam through the ironing system. Higher boiler pressure will allow the steam to penetrate fabrics easier, without leaving them damp. Also, a greater boiler pressure measurement will dramatically reduce the time you spend ironing, as the powerful steam will penetrate fabrics and you should only have to iron one side of the garment.
5.Continuous filling
This means you can simply refill the water tank as needed. This is a good feature to look for, as some models must be left to cool before being refilled. Obviously, this might be seen as an inconvenience.
Continuous fill models can be refilled whilst in use. So, if you need to refill the water tank, you can continue do it, without interrupting your ironing.
6.Heat-up times
Most steam generator irons will take a few minutes longer to heat up than a regular iron. Some models will heat up in just a couple of minutes and others may take 5-8 minutes, before they're ready to use.
The heat-up time will tell you how long a particular steam generator iron will take to heat up. So, if you don't want to be waiting longer than necessary, it's best to look for a model which heats up in less time.
7.Automatic Shut Off – One of the best safety features that steam irons come equipped with is an automatic shut off. Most irons that come with an automatic shut off have a three way shut off feature meaning they will turn off if left unattended in an upright position for several minutes, but will also turn off if left lying flat or if it is tipped onto its side. For those that do a lot of ironing find one that has an override switch to shut down the automatic shut off option.
8.Extra Steam Option
This allows users to adjust the amount of steam being issued by the iron. This is a must have feature because certain fabrics require more steam, so the extra spurt of steam at the touch of a button is nice. There is also something called a variable steam option that automatically adjust the steam being emitted based on the fabrics being ironed.
9.Material of soleplate 
Irons have differ types of soleplates, and not all are the right choice for each user. What users need to do is choose a soleplate based on their own personal preferences. Stainless steel and ceramic soleplates glide smother than others, but if starch is used, they can be harder to clean.
10.Well Designed Cord 
The last thing people need is a cord dragging across the items they are ironing or cords hanging around everywhere. Choose an iron that has a well-designed cord, such as a pivoting cord or even a retractable cord so it can be kept off the fabric being ironed.
Knowing the must have feature is one-way to choose the right steam iron, but so is knowing about the most popular brand. Rowenta is one of the most popular brands of steam irons because of how many different models they have available, which covers just about every type of steam iron.
Safety features of steam generator irons
Many steam generator irons come with built-in safety features, including automatic shut-off. This means, if you forget to switch your iron off, or leave it unattended, it will automatically shut off, or switch to standby mode, after a set period of time.
1.Sole plate
Sole plates can be made from several different materials, including stainless steel and ceramic. The material which sole plates are made from can affect the way your steam generator iron will glide. Ceramic and polished stainless steel are popular choices, as they glide easily, are scratch resistant and are durable.
As well as the material of the sole plate, the size of it and the number of steam holes, as well as their position will affect the iron's ability to deliver steam to the right areas. The high-end brands usually have excellent and effective designs.
There may also be extra features that you might want to look for on the sole plate, including a groove to help when ironing around buttons. Whilst these features won't affect the way your steam generator iron works, they are things you might find useful.
2.Soft-grip handle
An ergonomically designed, soft-grip handle will be more comfortable to use.
3.Variable Steam
One of the most important features of steam generator irons is the steam. This is because it's the steam which creates the heat and moisture which will penetrate the fabric, relaxing the fibers and allowing you to remove the wrinkles and creases in a lot less time than it would normally take.
However, depending on the fabric, you might not always want full steam and so a variable steam function can be a good option. This will allow you to adjust the amount of steam to suit your garments.
4.Vertical steaming
This allows you to steam garments while they are hanging, as well as upholstery and soft furnishings, such as drapes, etc
5.Water tank size
This is another important feature when it comes to steam generator irons. They use more water than regular irons, because of the amount of steam they produce. A larger water tank will mean you have to refill the iron less frequently.
As a guide, a 32oz tank will hold enough water for approximately 1 ½ hours of continuous ironing.
6.Weight
Steam generator irons have more features than regular steam irons, as well as the external water tank and boiler. This means that steam generator irons are heavier in weight.
The Ultimate Guide To Steam Irons
If you've thought about buying one of the new steam generator irons but are unsure where to start, or even if one would be worth the expense for you, read on to find out…
Can you answer 'yes' to one, or more, of the following statements?
I would love to get my ironing done faster and save time.
I would like to reduce the time it takes to iron, by up to half.
I would love an iron that achieves professional results with less effort than a regular steam iron.
I iron for my family, or more than one person.
My family produces a lot of laundry and I dread the ironing.
I prefer to get the ironing done in bulk, rather than 1 or 2 items at a time.
I feel relieved when the weekly laundry is washed, dried and ironed.
If none of these statements apply to you, then a steam generator iron probably isn't for you, as they're better suited to families, or those who have larger amounts of laundry. However, if you answered 'yes' to any of the statements above, read on to find out more about steam generator irons and see how they can benefit you…
Is It time To Change Your Iron For One Of The New Steam Generator Irons?
For most people, ironing is a time-consuming chore – it's something that has to be done, instead of something you want to do! Some people dread it so much that they put off doing it until the pile of laundry gets so big it just has to be tackled, with even more dread than before. Others iron as and when needed – 'iron-as-you-go' style because they can't face it, which then takes more time each day, setting the iron and ironing board up.
But, what if there was a way to do the whole family's ironing in one go and actually get it done in half the time it would normally take?
The technology surrounding irons has come a long way, especially with steam generator irons. These ironing systems used to be available only to professionals, but are now widely available as domestic ironing systems. And, there are a variety of makes and models available to fit all budgets.
Is Heavier Steam Iron Better?
We have noticed that there is an endless debate on whether you should buy a heavier steam iron or a lightweight one. In fact, if you read as many steam iron user reviews as we did, you would probably notice that even for one single steam iron, there are contradicting opinions on whether it is a heavy or a lightweight steam iron!
Heavy Steam Irons
All the traditional irons are much heavier than the irons nowadays, the earlier ones called "sadirons" which literally means "heavy irons". Weight is an important factor for the iron's efficiency to get creases out.
But ever since the invention of the steam iron, the weight of an iron is becoming less important because hot steam helps a lot in the way of getting out the wrinkles.
Lightweight Steam Irons
Manufacturers try to make lighter steam irons for relieving the stress on the user's hand and back while trying to make the steam powerful to substitute for the weight in efficiency. After all the steam iron will be heavier when it is filled with water.
We guess the choice between a heavy and a lightweight steam iron is purely personal, as long as you know what you like, and the best bet is to get one that has a balance between both advantages!